FAQs Vertical Succulent Planters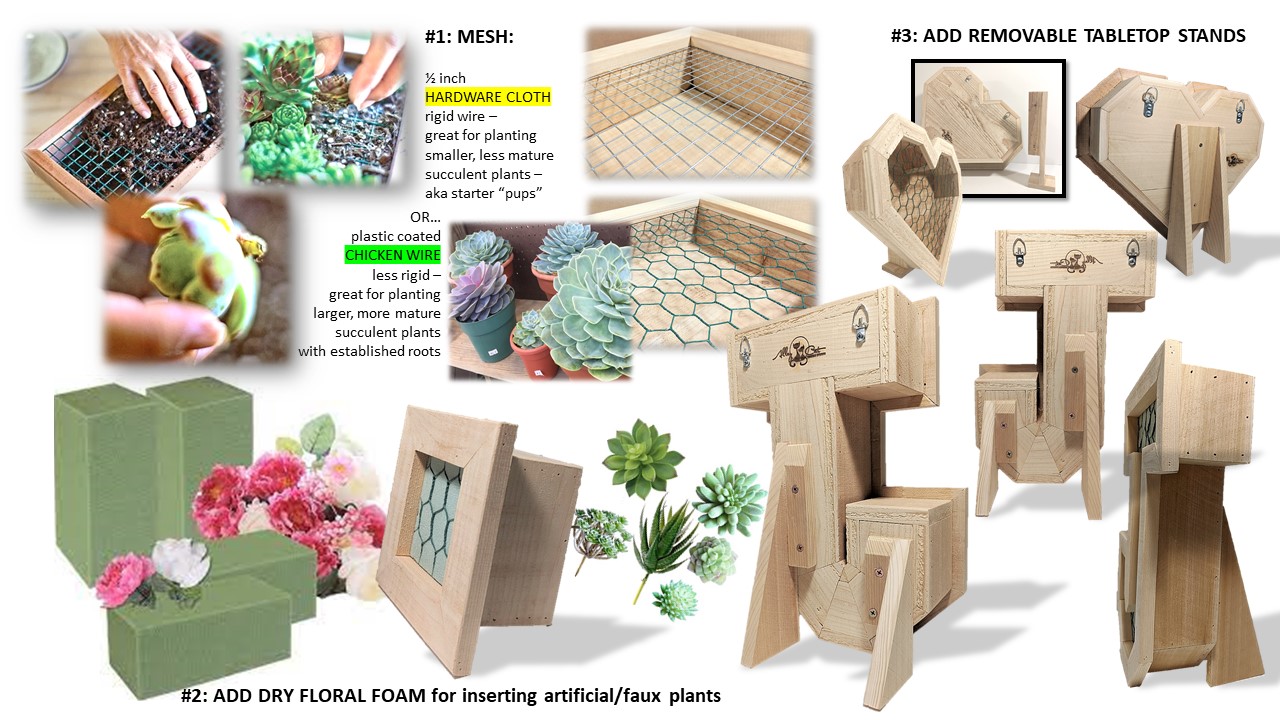 MATERIALS:
100% Cedar
Seams in the back of planter is reinforced with wooden biscuits
Quality Outdoor Wood Glue and Pin Nails are used throughout construction
All Planters will arrive READY TO HANG with Steel D Ring Hangers
THREE (#3) CHOICES at CHECKOUT:
#1:MESH
Hardware Cloth (very rigid wire - great if planting small starter "pups" - can be snipped as needed)
Plastic-Coated Chicken Wire (easier to work with, especially if planting larger, mature plantings - can also be snipped if more room for plant is needed)
#2: ADD DRY FLORAL FOAM:
Yes, I'm going to insert artificial/faux plants ONLY. Great INDOOR or OUTDOOR option as water cannot penetrate this foam, making it a clean, mess free way to enjoy the look of succulents without the required care.
No, I'm going to grow real plants. Great OUTDOOR option as you will fill with a cactus soil mixture in which your live plants will grow.
NOTE: Your entire planter will become soaked when you water the plants. Don't worry! Cedar has a natural resistance to wood rot and insects and will last many years with very little care. Allow water to drain through the seams and grains in the wood.
DO NOT line the planter with plastic or seal it in any way... as this will cause your plants to rot and die!
You may notice that the joints in your planter box may spread apart at times. This "gap" is due to the lack of humidity in the air and may indicate that the soil inside the box has dried out. As the humidity rises or after you water, the moisture content in the wood will expand, causing those joints to tighten. This is a natural process that should not cause you alarm or worry! The wood is simply moving and behaving like nature intended... like wood!
#3: ADD REMOVABLE TABLE STAND:
YES, (even though my planter will arrive "ready to hang" with hanging hardware installed, this gives me a second option for displaying my planter standing on a tabletop)
No, (hanging hardware is all I want as I plan on only hanging my planter)
NOT JUST FOR SUCCULENTS!
DID YOU KNOW... that many other annual & perennial plants... herbs... cactus... flowering vines... even vegetables and leafy greens... can easily be grown vertically by seed or by transplant starters... in these planters?
EVERY QUAILITY CONSTRUCTED 100% CEDAR PLANTER BOX WILL ARRIVE READY TO HANG
The unfinished cedar is ready to paint or stain in whatever color or finish you'd like (though water-based vs petroleum-based products are recommended)
or... DO NOTHING and allow the cedar to naturally turn a silvery gray/brown over time.
We'll supply the inspiration and EASY PLANTING INSTRUCTIONS...
You supply the soil, moss, plants, water, sunlight, and LOVE!
Create your own LIVING WALL ART DESIGN by placing your boxes where and how you'd like!
OUTDOOR PLANTINGS:
Provide some shade and sun protection - most succulents like a bright, indirect light best
Mornings full sun is okay vs hot afternoon full suns which can burn plants
Use the right soil - a fast draining cacatus soil is ideal - or create your own mixture
Water regularly every week - if plants aren't receiving adequate rain - but careful not to over-water
Place where plants will stay warm and receive good air circulation
Fertilize once a year at the beginning of growing season.
Become friends with your local growers- they will give you the best advice!
Also, good information can be found online.
The more you know about growing succulents... the more fun they are to grow!
INDOOR/OUTDOOR PLANTERS
Choose your planter and have us add the dry floral foam to the interior (beneath the mesh)
Insert the artificial/faux silk/plastic plants into the foam. Faux plants can be rearranged as many times as you need into this quality foam.
No Water. No Sun. No Mess.